Smart Cities Need Smart Devices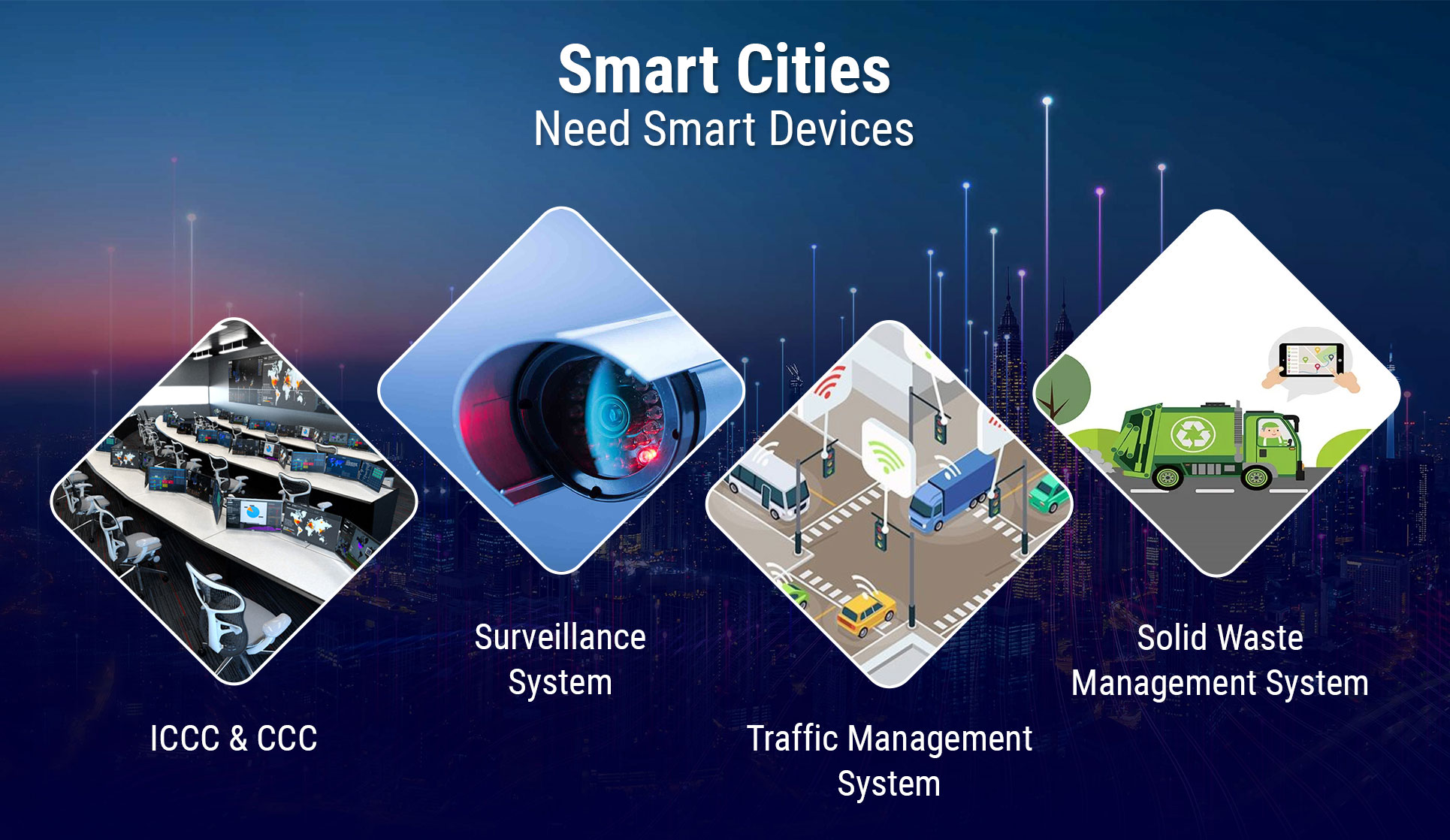 IoT devices are the key elements for considering a city so-called SMART. Here are some of the most intriguing and beneficial products for smart cities in 2022.
Public security and public assistance are pivotal parts of a smart city. Whether a metropolis is aiming for smarter streetlights, efficient waste management, or gunshot detection, there are smart city products that stand out more than anything else.
At Pratikshat, we present holistic resolutions for Smart City assignments across the nation. Commencing from the Integrated Command Centres to Surveillance systems to Smart devices and more, we specialise in the specific technical expertise needed for a city to stand smart. We furnish tailored solutions for all Smart City connected technologies and have been working in this specific genre since 2014. Our expertise fibs in effortlessly accomplishing the Smart City goals and requirements. Here are some of the best and most advantageous devices that are used in smart cities around India.
1. ICCC & CCC
Pratikshat proffers exceptional Integrated Command and Control Centre (ICCC) or Command and Control Centre benefits (CCC) solutions tailor-made for Smart Cities. Our ICCCs are easy to blend with hardware and third-party EMS, making it straightforward to get it manoeuvring. As per the mandates of the Government of India, our ICCCs serve as the main hub for handling and diagnosing data, communication and troubleshooting about disaster management, vehicle tracking, water and electricity management. It renders intermittent reports and transmits alerts in case of defects in the system.
2. Surveillance System
Our Surveillance Systems are much more than just ever-present patrols that do not need sleep. Our design comprises real-time camera feed, analytics and recommendations for headway based on real, surveyed data. Frivolity dodges our surveillance system. It guarantees maximum possible security through surveillance systems by integrating the latest technology in the industry. The system also designates users to act with minimum response time in case of an emergency. Pratikshat also offers CCTV Cameras, Panic Button and Public Address System and an easy-to-use application to manage the complex surveillance system.
3. Intelligent Traffic Management System - ITMS
Traffic management has evolved into a typical issue in all major cities in India nowadays. Every day, thousands of people pay countless hours stuck in traffic, breathing noxious gases and wasting valuable time just travelling to work and back. Our intelligent Traffic Management System helps manage and monitor traffic and traffic signals, check critical pollution levels, identify bottlenecks and problems and suggests actionable remedies to specific problems. In brief, Pratikshat's Intelligent Traffic Management system can manage all difficulties connected to traffic to enhance one of society's most oversized challenges today.
4. Solid Waste Management
Although everybody likes a Swachh Bharat, to practically achieve the scenario, it takes a lot more than a drive now and then and wastes segregation, pamphlets distribution door to door. For the cities to be truly clean an efficient waste management system requires to be in business first, so the endeavours placed in by residents and governments can be influential in the long run. We offer end-to-end solutions in the field of solid waste management that traverses waste collection, its monitoring and optimization of the entire cycle of managing solid waste. Our system bridges the interlude between the numerous bodies concerned with Solid Waste Management, determine problem dimensions and troubleshoots them. It guarantees seamless management of waste and is a sure-fire way to execute a clean and hygienic future.